---
The Psy Music History
Written by Psyland on July 12, 2022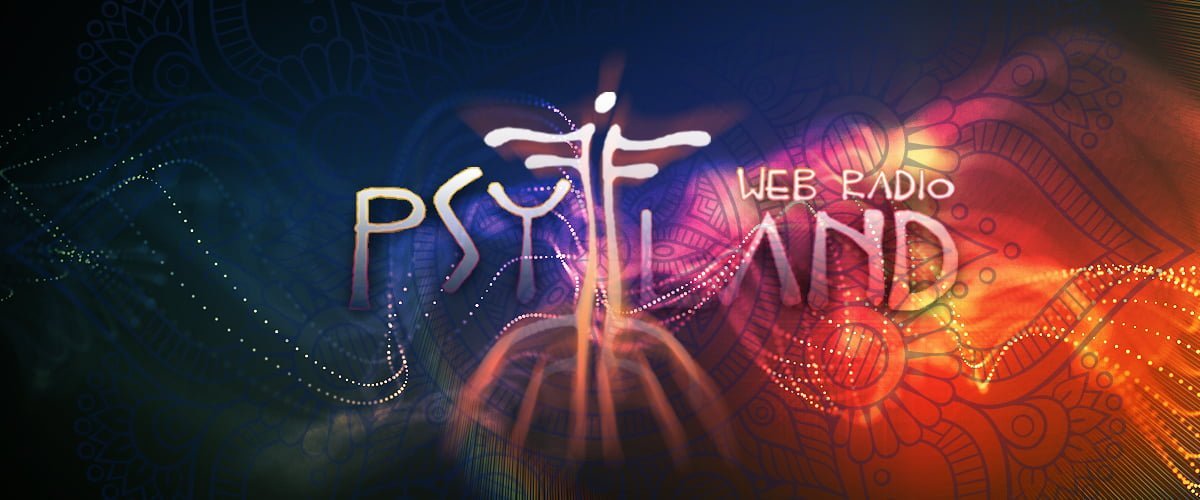 Hello Psylanders,
It is time to dive into history and take a look at the evolution of our beloved music scene. A scene active for more than 40 years undertaking intense changes every five to ten years.
To begin with, I think we should first define what is the music genre we are going to talk about. Being a music scene born into the first big steps of commercial synthesizers and computers, and the experimentation with them in sound design, led to the quick creation of many sub-genres, frequently leading to misunderstandings about the music genre being analyzed and discussed. So, for this article, we are going to name it Psychedelic Electronic Dance Music, including goa, progressive, psy-trance, uplifting, darkpsy, forest, full-on, or any other psychedelic music you have heard and danced in psy festivals and parties.
Starting from the beaches of Goa, India in the early 80s until today, the psy edm has been spread all over the world. Numerous festivals are being held in so many countries every month offering beautiful moments to their visitors. Between these years, many changes can be spotted to the sound, the popularity, and also the culture of the community of the psy scene. So, let's divide this period into smaller ones for better analysis and understanding.
The Pre-Goa Period
Let's begin with the pre-goa period. In the mid-60s, the thriving movement of hippies reached Goa, India. The love for nature and spirit, and the free use of psychedelic substances in this area, made it a dream destination for every member of this community. During the 1970s, the first psychedelic gatherings and open-air parties were held on the beaches, and psychedelic rock such as Pink Floyd and The Doors was the music usually heard in these events.
The 80's
The early 80s is the time when we can start adding the term Electronic Dance Music into the psychedelic genre. Djs like Laurent, Fred Disko, Stefano and Goa Gil, began experimenting with the use of electronic equipment and the manipulation of sound with them, giving birth to the first psychedelic edm sounds. The mixing of the elements of many different existing genres, such as trance, techno, house, local Indian music, and many others, also created numerous artist styles, ready to give birth to new psychedelic sub-genres.
The 90's
At the beginning of 90s, Goa, India had become a top destination for partying among young people. As the scene was growing bigger, Goa-style parties became popular all over the world. The first big fests were held in Europe, and many labels were created to promote the music of the many newborn psychedelic producers, and Djs.
Around 1995, psy edm had already spread through Europe. In many countries all over the world, big festivals were organized and the scene gained huge popularity among young people. Experimentation of the previous years and the combination of this fresh born genre with many others, created many different styles, mostly keeping an uplift vibe with euphoric melodic leads and filters bringing them in and out the soundscape. Some years later, into the peak of the rave movement, we can see different genres emerging having their own vibe and sound structure, such as nitzhonot/uplifting trance, psytrance, and progressive psy.
By the end of the decade, following the excitement of the globe about outer space findings and potential habitability, the psy edm scene started adopting a futuristic science fiction style. That has been imprinted on the cover artworks, the event posters, and also the sound itself. We can also see a gradual distancing from the first concepts of goa music like nature and spirituality, and an adoption of a more "party until tomorrow" logic. Unfortunately into the peak years, extensive drug abuse started to show up. This created many problems to young people, and some kind of fear among older ages about this music style and the entertainment it was offering. This probably led to the gradual loss of popularity from the scene after 2000.
After 2000
In the middle of the 00s, many new genres started to show up, diving into the inner self and the dark side of the soul, taking a different approach from the euphoric vibe of the previous years. New labels are created showing the way for fresh new styles and computer software, and lower prices in analog sound equipment, helps artists create crazy psychedelic sounds. It is definitely a period of change for the whole psy scene.
Genres like darkpsy, forest, full-on, twilight/night full-on, and dark progressive/zenonesque start to emerge, as producers start experimenting with new sounds and faster bmp, exceeding the scale of 130-150 bpm that was common in previous years, and ranging between 145-180 bpm, reaching even tempos of 200 bpm. In addition, the trance and melodic elements of the previous years were usually replaced by dark soundscapes, stretched sounds, and crazy sound effects, mostly in genres like darkpsy and forest, while full-on and twilight kept using them in a different way.
After 2010
After keeping an underground profile for about ten years, around 2010, the psy scene seems ready to come back, and this time much stronger. Many psy festivals start gaining popularity again, each one with its own vibe and music style, being a nice choice for people who love music and nature, to spend their breaks. Also, faster bpm genres such as hi-tech and psycore gain more listeners, and many fests are organized having a complete high tempo line-up. There can also be spotted a return into the values of goa movement by the psy community, such as love for nature and spirituality.
Today the psy edm scene and its community continue evolving keeping a strong connection with nature and spirit, and big fests all over the world bring people together, creating chances for cultural exchange, thus promoting unity and equality. Labels and artists from many countries into each genre, give their own special sound stamp, and the listener can nowadays choose between numerous different styles, grooves, emotions and tempos.
The Psychill Scene
Between all these years, the psychedelia of the psy scene has also been expressed in a chill-out way having a slower tempo around 100bpm. It is usually called psy-chill, and may have elements borrowed from dub, downtempo, ambient and ethnic music, accompanied by psychedelic effects, soundscapes, and chants, creating a spiritual meditative state. Although it is not really an edm genre, it is important to be mentioned, as it can frequently be found in the line-ups of most psychedelic festivals, from the pre-goa period until today. Also, many psy edm artists release psy-chill tracks or even have a side-project dedicated to this music style.
Other Psy Subgenres
Finally, I would like to mention that there are some more sub-genres that may have not been mentioned above, in order to keep the timeline simple and comprehensible for the newcomers of our community. So, let's take a quick look at some of them.
Psybreaks/psystep is a genre characterized by some elements of breakbeat, neurofunk, drum and bass and dubstep, and a relatively slow tempo. Also, experimental psychedelic music can be considered a psy edm genre, usually breaking the rules of 4/4 kick structures and steady tempo basslines, trying to provide a psychedelic chaos for the listener. Suomi/Finnish psy can be considered as a genre born by experimental psy, having a more melodic, funky, and humoristic vibe. These genres have been active and evolving for more than 25 years into the psy scene. Also, psytech, borrowing techno and hard house elements, and tribal/ethnic/natural psy, using organic percussion, traditional instruments and chants, are some more sub-genres we can add to our psy edm list.
Conclusions
Dear lovers of psychedelia, I hope that this time-lapse into the history of our beloved music scene, can help you find out the true origins of the culture, the values, and the sound that forms psychedelic music and its community. I would also like to mention here that I avoided giving specific examples of releases, artists, or labels in each genre, as it is usually something subjective depending on the experiences, the taste, and the country of the listener/writer. In addition, I personally believe that every single artist and label have offered their own contribution to the creation and development of each genre.
Instead, I suggest you making your own research, just by clicking the genre name. A link has been added, redirecting to every release tagged with this genre in bandcamp. I recommend listening to more than one track, to avoid misunderstandings from wrong tagged tracks. A diagram and a timeline have been added below too, for a better and faster understanding of the psy edm scene evolution.
To conclude, I would like to remind all psy people that a time-lapse of the past is one of the best tools to help us avoid previous mistakes, and show us the pattern that leads to thriving and enlightenment.
Written by Tazz (Tasos Ath.)
TIMELINE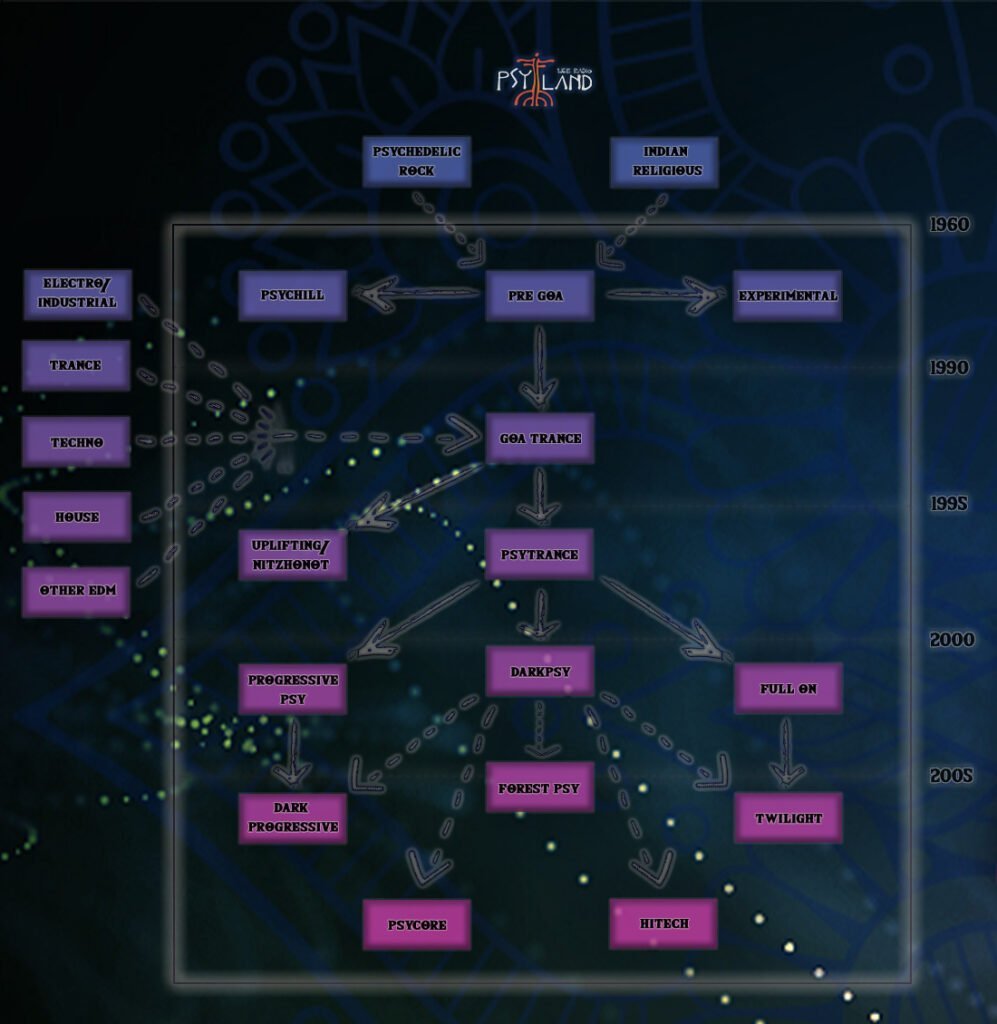 BPM CHART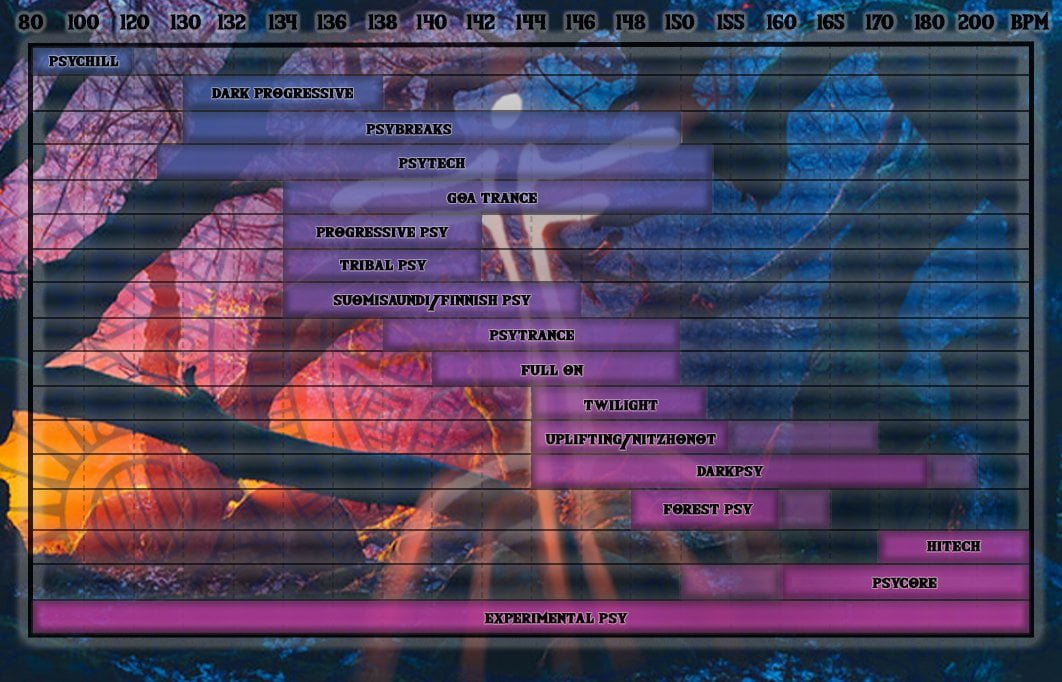 ---
Reader's opinions
---