---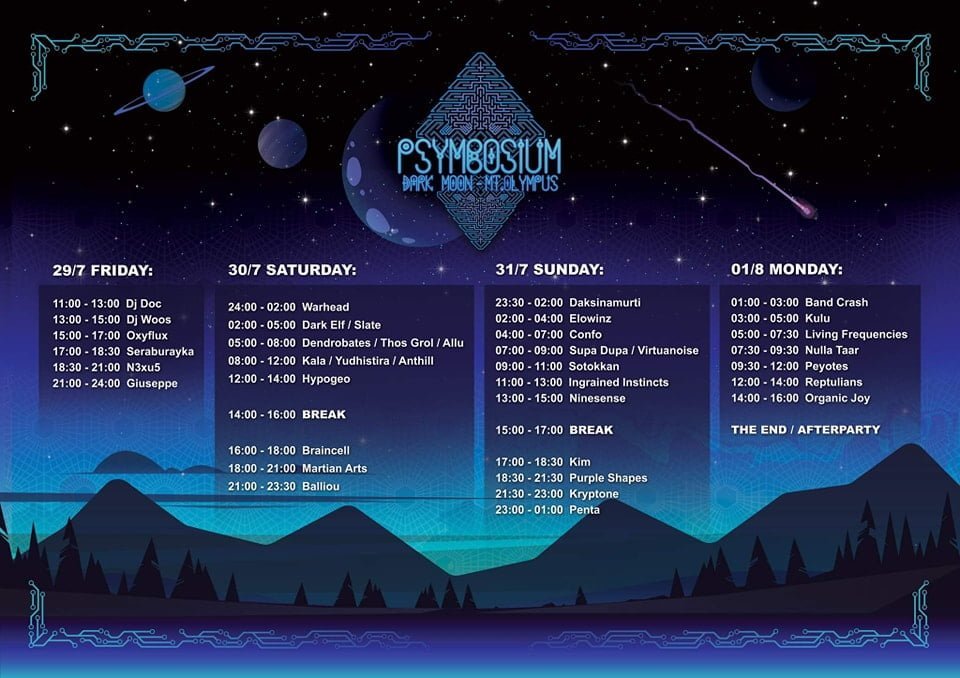 Hello Psylanders,
Just about a month left until Psymbosium Festival at mount Olympus in Greece and the artist line-up has just been announced! Check it out to catch your favorite artist, plan your festival days, and miss no hour dancing on the floor. We are all looking forward to this beautiful gathering surrounded by the magnificent aura of Olympus mountain.
By this time, Psymbosium's team is working hard to shape a place that promises to offer a quality experience by all means. Check their latest announcement below and some photos from the team setting up the stage on this beautiful landscape.
Announcement by Psymbosium Team
"Creating a festival that offers quality Line Up, quality Deco & Arts , quality Soundsystem, quality Visual pleasure, quality Food & Drinks, quality Space to dance and Chill, quality Security, quality Facilities… takes a lot of work, a lot of imagination, top-notch organization skills, and Quality festival-goers…. Are you ready for this edition?
Our 3rd Edition will be Epic… As well as the new areas we prepare for all of us to enjoy. Which are of the Highest Quality as we aim for the best possible experience.
Greetings from the Mountain of Gods, and in 6 weeks we will be all creating life memories together!"
18 June, 2022
We are also glad to announce our Giveaway Winner for 1 ticket to Psymbosium Festival. Check our blog post for more and don't worry if you weren't lucky… Another ticket giveaway is on the way soon. Stay tuned to Psyland Web Radio to catch the date and participate, and you might be the lucky guy on the next one.
Follow us on Instagram & Facebook to stay updated:
https://www.instagram.com/psyland.live/
https://www.facebook.com/psyland.live
Find here more info about Psymbosium, like previous events, interviews, music releases and more.
Find here anything you need to know about Psymbosium 2022 – Dark Moon Edition.
---
Reader's opinions
---